Have you ever had a moment when you wished your life had overlapped with another? Maybe to ask that person a question you're yearning to know the answer to. Maybe to forge a friendship, or maybe to simply introduce yourself as a kindred spirit. Whatever the impetus, I'm willing to bet you have felt it at various points in your life, and today I once again felt it in my own.
I remember the first time I was emotionally swept away by this sensation. The adrenaline of discovering a person, only to realize a moment later that they no longer exist and that contact is impossible, leaves you with a moment of pain mixed from disappointment and excitement colliding in your chest.
I remember watching the old black and white Robin Hood film starring Errol Flynn when I was a kid, and falling head over heels. I grabbed a hold of a computer, tried my hand at one of those old-school search engines (excited to find photos of this dreamy actor), and instead was (stupidly) surprised when the first image to pop up on the screen was his aging gravestone. What?? Dead? Somehow the idea that he was still out there (regardless of age, and regardless of the fact that he wasn't actually Robin Hood) had been enough to keep the fantasy alive. Seeing his tombstone, and recognizing that this person would never,
ever
know who I was: devastating.
So why all this talk of overlapping? Today, as I worked on an assignment for a feature article in an upcoming arts magazine, I was asked to look up photos of Atsuko Tanaka's
Electric Dress
. I was instantly transfixed.
Atsuko Tanaka's Electric Dress, 1956.
This incredible piece of art, created back in the 50s in Japan, challenged what the world perceived as art, and struck me in its similarity to my most recent work
Andromeda
.
Merli V. Guerra's Andromeda, 2012
Atsuko Tanaka's Electric Dress, 1956.
Need I explain why? In researching this woman's work further, I found that I am drawn to many of the same elements as she is--from redefining the body's role in performance art, to working with exposed lightbulbs and textiles.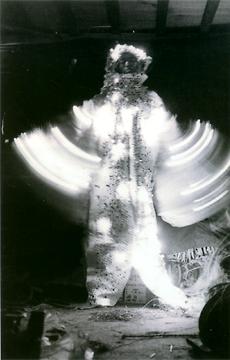 Atsuko Tanaka's Electric Dress, 1956.
It was the final image above that strengthened my urge to connect with this artist. When set into motion, Tanaka's
Electric Dress
creates a modern kimono through light, not all that dissimilar to the work I am currently pursuing through projected light against uncut fabric to create the faux appearance of a kimono when moving.
Rehearsal for Chasm, 2013.
Quilt image by Judith Content.
A kindred artistic spirit, and one that I am disappointed beyond words to discover has passed away--in 2005 at the age of 74.
Because if I could, I would write to her in an instant...simply to introduce myself.